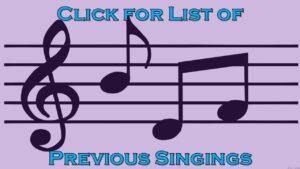 Last year we had a tremendous turnout for our annual singing! Everyone is invited to join us again this year and fill the building for this great event. We will sing at 10:00 in the morning, followed by our worship service at 11:00. We will enjoy a meal together following the morning services. Then, at 1:30, we will assemble for singing! We would love for you to come and join in this great time of fellowship and worship.
History
No one knows when the annual Singing at the Whitehouse began, but it was well over 100 years ago. Each third Sunday in July, folks with ties of family and friendship return to the Whitehouse for Homecoming. That weekend marks the annual decoration at the Whitehouse Cemetery. Grave markers are cleaned and adorned with new flower arrangements. Cherished loved ones who have passed from this life are remembered and honored. And, most importantly, the God of Heaven is worshipped in song.
Many years ago, there would be a gathering for singing on Saturday as well as Sunday. Today, the song services take place on Sunday. The first is in the usual Bible class hour, from 10:00 – 10:45. Worship service is from 11:00 – 12:00. Dinner on the grounds follows the morning services. Not so long ago, this meal was literally "on the grounds." Folks would fix their plates and eat wherever they could – even sitting on the ground! Now, most gather in the annex build to eat together, although some still prefer to dine at the old concrete tables behind the meeting house.
After a filling and delicious meal, the big Singing starts at 1:30. The crowd for this service usually consists of an entirely new group of worshippers! Some folks stick around for the afternoon singing, but most have come from neighboring congregations. The building is packed, the temperature rises to almost sweltering, and then it begins – probably a few minutes early (we just can't wait). Brothers and sisters in Christ from all across the country join their voices together in singing that seems to lift the roof off of the building! For the next hour and a half, hearts and voices unite in singing praise to God as we fellowship one another. For a sample of the good singing, listen to the songs below…
If you have never visited the Whitehouse church of Christ on the third Sunday of July, we invite you to come and be a part of this great day of worship, singing, and fellowship. Mark your calendars and plan your trip now! We hope to see you soon.
July 16, 2023
July 21, 2024
July 20, 2025
---
Links to Previous Singings